Growth is the goal for emerging technology companies. When it happens fast, however, it can be challenging for these businesses to manage that change and to scale, especially in back-office areas like accounting, finance and IT. Setting up or optimizing core functions with labor-intensive processes is about the last thing business leadership wants to think about as they're focusing on generating revenue and driving their team to deliver technology innovations.
External providers of managed services for business and technology are one source of support that fast-growing firms can turn to – but often overlook. They may view these resources as an option that's intended only for larger and more established businesses. But the truth is, these arrangements can be extremely valuable to smaller organizations, including emerging technology companies. They can help these organizations align the right technology, staff and expertise to support their current business needs as well as their future expansion.
As discussed in a previous post, it's never too early for emerging tech firms to think about adding more structure to their business operations — even if they are not yet feeling the pressure to do so. Giving attention to these areas now will help position these companies for future success. It can help them to accelerate the public company transformation process if they decide to pursue an initial public offering. It can also make them a more attractive partner for a merger or acquisition deal should that opportunity arise.
Solving Problems Quickly Without Hurting Revenue Generation
Technology companies are no strangers to using flexible workforce models. That approach has allowed them to access skilled technical talent from external sources on demand. It has helped them to scale teams up and down quickly according to their business needs, so they can stay nimble and keep costs in check.
To be sure, many emerging technology firms already look to staffing specialists to provide interim and project-based professionals when core teams need extra support. But for business-critical initiatives that could make or break their future success — such as standing up a finance function or implementing a new business system — they may want to consider engaging a third-party resource that can provide integrated staffing and consulting expertise along with customized solutions.
One of the benefits of working with this type of provider is that they can shoulder all the things that leadership at emerging tech firms have zero time to do because they must keep their attention focused squarely on revenue generation. In addition to managing the project itself, the third party should be able to handle onboarding and support of all project resources, provide reporting on progress and improvement, assist with change management and staff training, and more.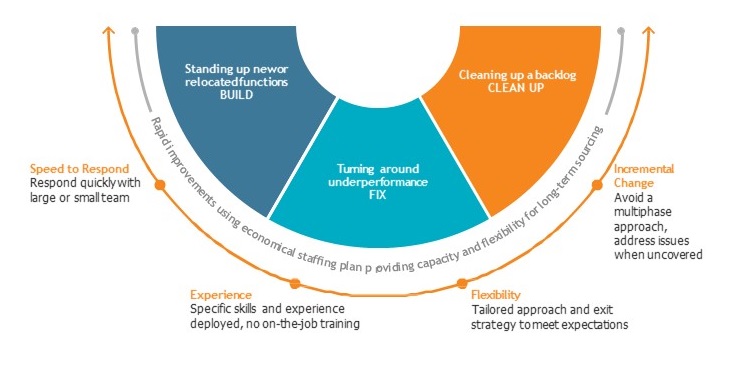 The Tech Factor: Implementing Solutions to Support the Business Today and Tomorrow
In seeking out managed services providers, emerging tech companies should consider those that have a compatible culture in terms of innovation and tech skills. Ideally, the third party is adept at leading-edge technologies for increasing business performance, such as robotic process automation (RPA) and artificial intelligence (AI). Technology companies of all sizes need to drive innovation in every corner of their business, and that includes their back-office operations, such as accounting and finance.
The decision to automate their accounting and finance functions is often a strategic decision for these companies. They are bringing in advanced technologies like AI so that core teams have the time and tools to perform more value-adding activities for the business. Automating manual processes like accounts receivable also enables better cash flow management, which is essential to the survival of a fast-growing company.
While emerging technology firms are at the forefront of change and innovation now, they are not likely to stay on that edge if they are burdened by operational inefficiencies. Like every other business, they need to have the right infrastructure to support their growth and increasingly improve their performance, but as emerging companies, few have the resources or expertise in-house to do that alone. Managed services providers can help these businesses to implement the technologies and processes they need to evolve into the strong, profitable and disruptive companies they are working so hard to become.
Learn more about Protiviti's Managed Business Services, delivered in collaboration with our parent company, Robert Half, the global leader in specialized staffing.