As technology firms wake to the reality of increasing regulation, the question arises: "How do we prepare?"
Protiviti has published a four-part series on key considerations for technology industry board members and executives interested in what the responsible technology firm of the future might look like. Our series focuses on the rapidly changing landscape that is altering the conversation at the highest levels of technology companies and offers insights to help companies be prepared for the future.
We've been discussing the series here on The Protiviti View, beginning with an overview of the changing environment, followed by a wake up call for companies to get ready for a rising tide of regulation. In this post, we touch on how having a strong but flexible compliance framework can actually help, rather than hinder innovation.
For decades, technology firms have enjoyed a life relatively free of regulation and compliance worries specific to the industry. In such an environment, it was easy for digital daredevils to take off, like Chuck Yeager breaking the sound barrier.
Yeager's X-1 aircraft roared into the spotlight in 1947 but was quickly eclipsed by more agile contenders who were better able to navigate the laws of physics. Responsible technology firms are breaking barriers of their own, adopting flexible risk and compliance frameworks to more effectively navigate the regulatory environment without hindering innovation.
Successfully navigating regulatory compliance doesn't mean backing off innovation. On the contrary, by expanding the definition of innovation and process improvement to include risk and compliance management, companies are finding ways to create agile risk and compliance processes that keep pace with development and operations.
With a proven process for identifying, assessing and evaluating regulatory compliance issues and having the right skill sets and resources companies are able to satisfy themselves that they have a handle on risk and continue to focus on innovating in other parts of the business. That's good news for risk executives because it allows them to present risk identification and controls as something akin to fine-tuning an airplane engine, an essential process that ensures the business will navigate smoothly in all conditions.
Protiviti has utilized a proven framework in heavily regulated industries for many years, which may serve as a helpful starting point. This framework provides a structured approach to addressing compliance issues without slowing down the organization.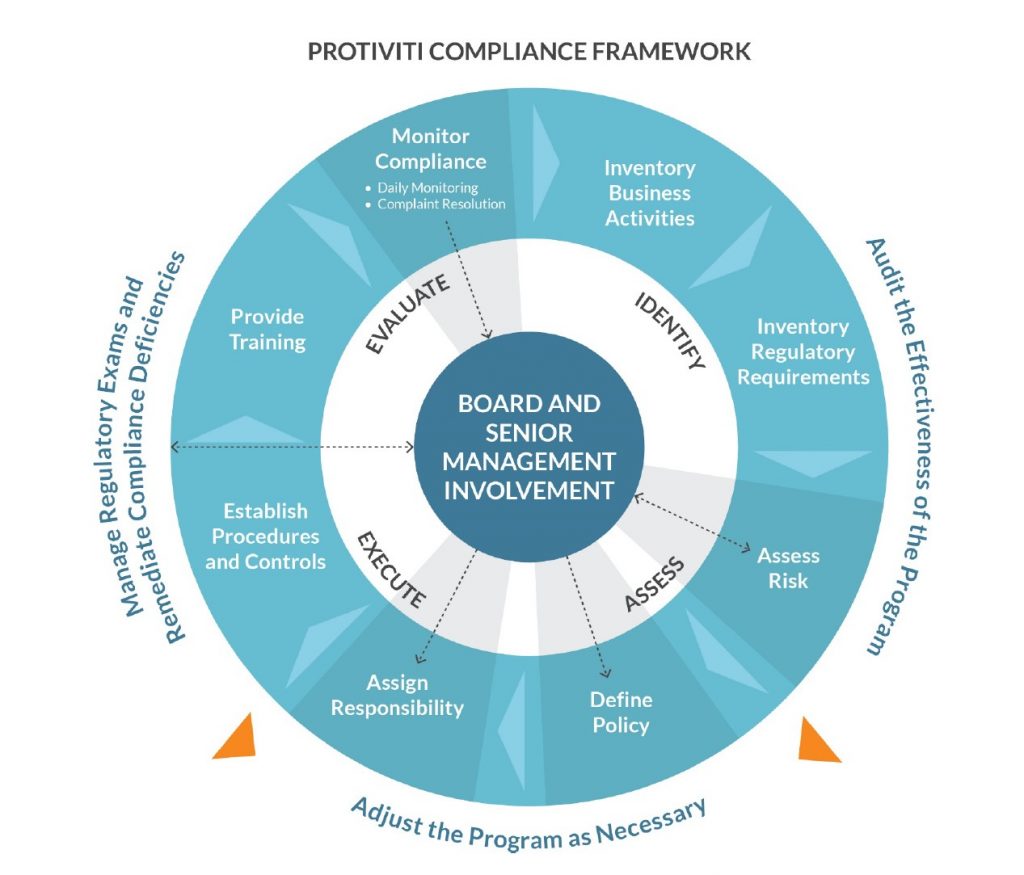 Action requires clarity. And clarity requires a proven framework of goals, controls and roles, to effectively manage risks without interfering with innovation. Agility comes from having a defined and proven process for evaluating regulatory compliance issues, and having the right skill sets and resources in the right volume to address them. Companies need to give compliance the right level of attention, organizational support and funding. The risk and controls function must occupy the same important place on the executive agenda as innovation.
To learn more about developing an agile and innovation-friendly compliance framework, download Part 3 of the series, available here.