Three years ago, when Protiviti began detailing why financial institutions should modernize their core systems, technological advances changing the way customers interacted with their financial providers were just starting to emerge. Today, these technologies, such as cloud computing and application programming interfaces (APIs) – software intermediaries that allow applications to talk to one another – have moved into the mainstream, and fintech players have continued to raise the bar for customer experience.
To provide an updated outlook on these issues, we recently published Modernizing Legacy Systems at Financial Institutions, a white paper that discusses the disruptive influence that the cloud and APIs have had on the industry. It also illustrates how rapidly expanding concepts such as "open banking" are accelerating the need for change at financial institutions.
To the delight of consumers, innovations and improved customer experiences arising from the cloud, APIs, and other emerging technologies are allowing bank customers to access their financial data, pay for products and services or access credit in a growing number of user-friendly ways. But for many traditional financial institutions, the innovations have intensified competition and caused a significant amount of fear that they must innovate – and fast – to stay relevant. This fear was underscored by the responses to a new survey on top risks by Protiviti and North Carolina University's ERM Initiative – financial industry executives' number one operational concern, according to the survey, is that existing operations and legacy IT may not meet performance expectations for quality, time to market, costs and innovation as well as "digital born" competitors.
If financial institutions fail to modernize their legacy systems, they will almost certainly lose ground to rivals. Not only are core systems typically inflexible, but the expense to operate them continues to increase. Yet in the last three years, financial institutions that have undertaken core modernization programs have mixed results to show for their effort.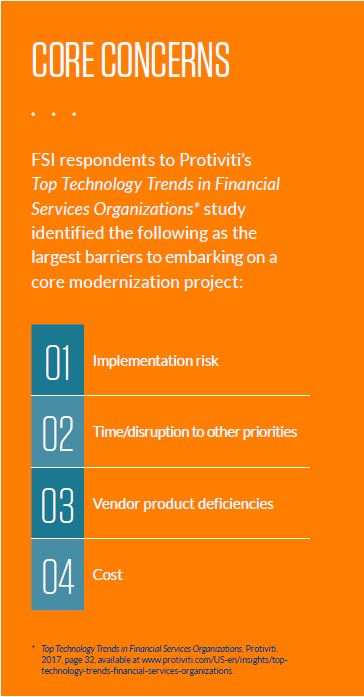 A decade in the works, BBVA Compass completed its roughly $2.5 billion core transformation and established itself as the global leader in legacy system modernization, In another success example, Goldman Sachs is expanding the products and services offered by Marcus, a fintech subsidiary it launched in 2016.
On the flip side, after three years, cultural and implementation challenges are hampering Deutsche Bank's ambitious $1.1 billion effort to reduce the number of its operating systems to four from 45. And TSB, a UK bank, found itself under regulatory scrutiny after a glitch exposed customer data as it was migrating from a legacy system.
Despite the cost and challenges that accompany core modernization projects, by and large executives and IT leaders in the financial services industry recognize that the failure to address their legacy systems increases risk. In fact, some 76 percent of respondents to Protiviti's Top Technology Trends in Financial Services Organizations study said that risk mitigation was a primary driver of core modernization initiatives. The respondents also cited enhanced revenue generation and cost saving opportunities as additional top drivers. We took the liberty of adding a fourth, perhaps even more existential consideration: customer experience.
In the latest white paper, Protiviti explores the benefits of each of these drivers in depth. In brief, they are:
Customer experience – While core systems do not interface with consumers directly, they provide essential services to the customer service platform. But the construction beneath the surface often impedes the seamless experience that consumers now expect in a digital world.
Revenue generation – The cloud, APIs and other technologies reduce the time it takes to launch new product and service innovations that provide opportunities for revenue growth.
Cost savings – Studies suggest that by modernizing, financial services institutions can slash IT operating expenses related to core processing by a quarter to one-third. This can typically be achieved through a combination of more efficient computing platforms and application rationalization.
Risk mitigation – Older legacy systems are frequently missing adequate documentation, and the number of programmers familiar with early languages diminishes each year. Of course, legacy systems also lack the flexibility to adapt to future technologies, which is inherent in most new systems.
There are several core modernization approaches available to organizations, which we discuss in detail in our paper, along with the key components to a winning strategy and various challenges on the way. Whether your company is eager to begin a core modernization project, is sitting on the fence, or avoiding the topic altogether, we recommend a read. At the very least, the ideas, examples and methods outlined in our white paper will serve as a helpful catalyst for a conversation among the IT, risk and customer service executives, and at best will start a decision-making process for how your institution can move into the digital future.