Horror movie fans are well-versed in the ever-popular "zombie apocalypse." But for those who work in the consumer products and services industry, the "retail apocalypse" is more frightening.
The retail apocalypse refers to the widespread closure of brick-and-mortar retail stores in the United States and Canada. It represents a serious threat to the retail business model we have always known and has been unfolding for a long time. It continues to present a stark reminder of the profound changes that are reshaping the entire consumer products and services industry.
For seven years, Protiviti and North Carolina State University's ERM Initiative have been tracking and measuring the macroeconomic, operational and strategic risks that are emerging as a result of these shifts. The latest Executive Perspectives on Top Risks survey reveals a set of risk issues that have not changed significantly in the past three years.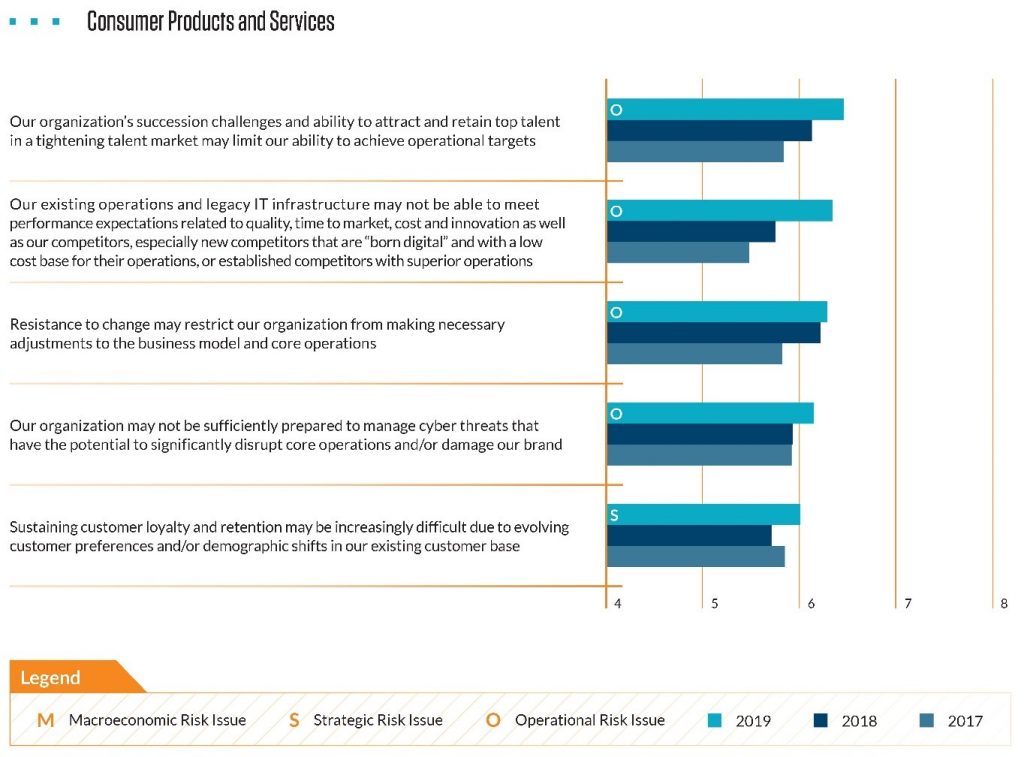 Every Company Is a Technology Company
It is notable that two of these risk issues relate directly to technology. IT infrastructure is the backbone of the business – the key to operational efficiency and agility. In this environment, an older established company, which is constrained by its significant investment in legacy systems while finding the funds to invest in new digital operations, is at a disadvantage. The company's top competitors are likely "born digital" and are not concerned with legacy systems to maintain; thus, they have an inherent advantage with tech-savvy employees and customers.   
Cyber risk, while not a new issue, continues to loom over the industry, with recent security breaches reminding us how critical these matters are to consumer products and services businesses in particular.
In an industry where customer relationships are critical, a company must have a good store of customer data. But that means the company must protect that data or risk damaging – or losing – relationships it has worked hard to build. On the other hand, a solid cyber program will go a long way with customers who want to shop, via any channel, knowing their transactions will be safe and secure.
The concern about meeting customer expectations reminds us how profoundly the industry is changing. Not long ago, the best retailers and packaged goods companies had the best merchants – experts who were adept at sourcing products and presenting them to the customer in the most appealing way. Now, the best companies excel at meeting – and often anticipating – a customer's needs and expectations. They serve customers in the way they want to be served, enabled by technology.
That's why one lesson to take from these findings is that all companies today need to be technology companies. That is, their success depends in part on their ability to leverage technology and use those capabilities to provide an outstanding customer experience.
Talent Provides the Competitive Edge
Perhaps the most important lesson is that talent – and the talent pipeline – is of central importance to a consumer products and services organization. It's not surprising that talent and leadership succession is a major area of risk. Attracting and retaining talent in today's tight labor market is a significant and persistent issue in many industries.
The reason it is the number-one risk in the survey is because it has at least an indirect impact on all the other top risk issues. Certainly, it casts a shadow over the entire operation because without the right talent in place a business can't function at its optimal level.
Even if the idea of a retail apocalypse proves to be nothing more than hyperbole, we can be sure the consumer products and services landscape will continue to change dramatically. The industry will continue to present a complex mix of challenges, and yesterday's formula for success is not likely to work tomorrow. That is why leadership and, ultimately, succession planning is so vitally important. Visionary leaders will bring in the talent that's needed to tackle today's challenges. At the same time, they will build a leadership pipeline that can lead the organization into the future.
Read additional posts related to Consumer Products and Services industry.