In our age of digital transformation, finance leaders have unprecedented opportunity to transform operations and create strategic advantages through technologies such as artificial intelligence and machine learning, virtual reality and robotic process automation. When finance leaders guide their organizations through these transformations, they can help secure their own success by encouraging receptivity to change in their organizational cultures.
I recently participated in an online webinar by Protiviti and our partner Nintex, demonstrating the automation of a specific finance process. Although the presentation was focused on workflow optimization using intelligent tools, its effect on people was difficult to miss. One of the core benefits of new technologies is to replace error-prone manual processes with automated ones, which could make people feel less necessary and more resistant to change. A less discussed benefit is the opportunity for the employees liberated of their manual tasks to focus on more valuable work requiring judgment, discretion, oversight and handling of unique situations, and learning new skills.
It's up to leaders to define, engage, adopt and execute strategies that advertise this benefit and promote a culture that embraces transformation. Excluding their people from innovations under development is an impediment to adoption and hence to leaders' success. An environment where people are engaged — not left to wonder what's coming — helps secure successful outcomes and builds a more agile organization. It is my experience that the majority of stakeholders want to participate when they are empowered and encouraged to take the transformational journey along with their leaders.
Specialists in change management are often brought in to support delivery of a project, but this approach places leaders in the unfortunate position of getting people to accept changes that were defined without stakeholder participation. As late entrants, the change management specialists then engage with senior leaders to come up to speed. Ideally, however, these specialists work with all stakeholders, starting from the inception of a change initiative.
Because transformation initiatives tend to follow one another in waves, it's best to keep a change management team involved throughout. Keeping people engaged increases organizational flexibility through change after change. Engaged stakeholders will understand the vision and rationale behind the initiative and contribute their unique perspectives to it.
Four Stages of Change Management
To take a phased approach to change management, consider alignment first; establish the vision and the metrics by which success will be measured. Aligned with each other, executive leaders stay on message to communicate a single vision throughout the organization. Once aligned, they're equipped to communicate what strategic gains the business will obtain via the initiative. Stakeholders can be made to understand a transformation is important to the business' success and is not personal. Performance measures can be made meaningful to the entire team. As the quantification of the vision's success, metrics help team members see the processes they support in a larger context. When they see the transformation as large and systemic — rather than targeting individuals or their work groups — people feel enlisted and can think holistically rather than personally, and they see themselves as full participants in the future state.
Aligning all stakeholders on vision and metrics facilitates collaboration, which is the second phase. Knowledge sharing strengthens the organization through major change by bridging gaps between groups and people. All stakeholders in the transformation are supported in communicating up, down and throughout the organization, as well as with trading partners. By putting tools and structure in place to facilitate team communication, group work and knowledge sharing, leaders can make collaboration pervasive and ongoing in their cultures to keep people engaged and ideas flowing.
Constant collaboration fosters innovation, the third phase. Innovation becomes part of each participant's role, which means the organization gains the benefit of a multitude of perspectives to achieve the best possible end state. Innovation flourishes in settings where participants have no fear that their ideas might fail. Organizations attain the full value of their team members' skills and experiences by fostering innovative cultures where individuals can safely bring forth ideas for new products, markets and process optimizations.
Participating in innovation through the course of the transformation initiative also prepares each stakeholder to flourish after delivery, which is the fourth and final phase. This includes not only implementing a new process and the technology that supports it but also educating people about the change. Training and education are more straightforward when stakeholders have been involved in collaboration and innovation every step of the way. As its co-authors, stakeholders already know what the transformation will entail. As participants in designing their own future state, they're receptive when it arrives.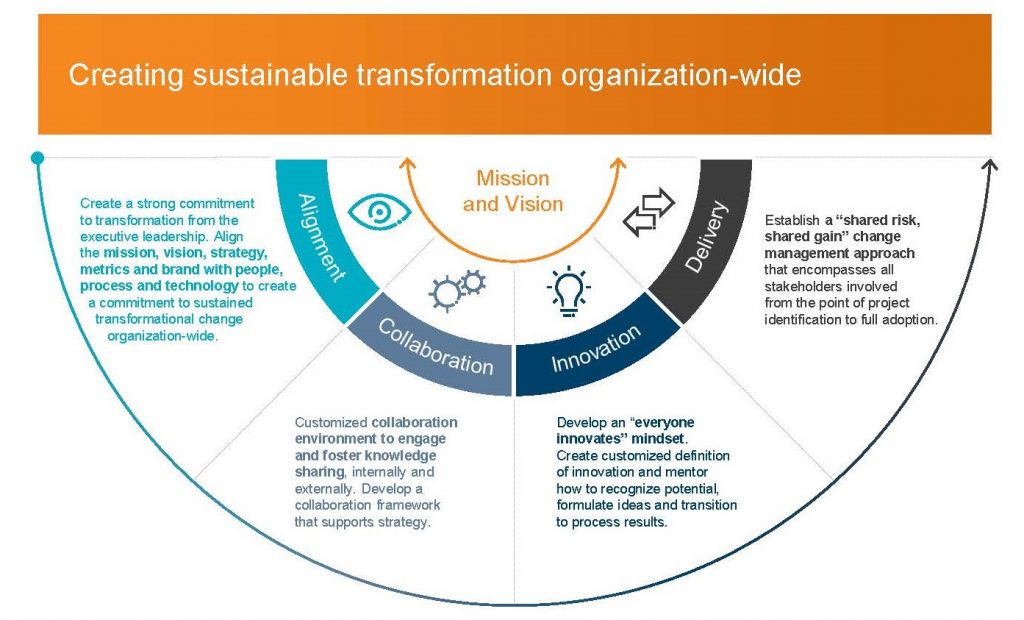 Whether a transformation involves a new process, new platform, new technology or new business partner requiring roles and processes to change, leaving change management for the very end should never be an option. Even when change is driven overwhelmingly by technology, which often takes center stage and dominates the conversation, people are, and always will be, at the heart of success.