Across the global economy, supply chains have been hammered by the pandemic, forcing businesses to restructure their procurement operations in order to build in resilience. Such restructuring often comprises a broad range of actions that may include increasing warehouse space, altering delivery methods and seeking more flexible supplier contracts, among others.
While these changes are important, they are only stop-gap measures at best. They may keep key inputs flowing and enable the enterprise to cope under stressful conditions, but to ensure that supply chains are operating at a high degree of dependability and cost effectiveness, management would be well-advised to move beyond a procurement mindset and embrace a more holistic methodology known as strategic sourcing. Given the havoc wreaked by COVID-19 and the shaky prospects of the global economy, the future of an organization may well depend on it.
Strategic Sourcing Defined
Strategic sourcing, simply put, is an information-based process for developing a superior procurement ecosystem that strives to maximize total value for the organization. Once in place, the ecosystem extracts optimal value while obtaining market-clearing costs. It not only solves current procurement issues but also helps mitigate potential future ones.
To create this ecosystem, strategic sourcing utilizes a number of approaches that are significantly different from traditional procurement. Instead of focusing mostly on point-of-purchase cost, strategic sourcing also incorporates Total Cost of Ownership (lifecycle costs) in its calculations. Instead of relying primarily on hard negotiating, strategic sourcing builds a partnership with vendors that seeks the most cost-effective solutions to meet operational requirements. And while traditional procurement pays scant attention to risk factors, strategic sourcing makes risk management a central part of the value equation.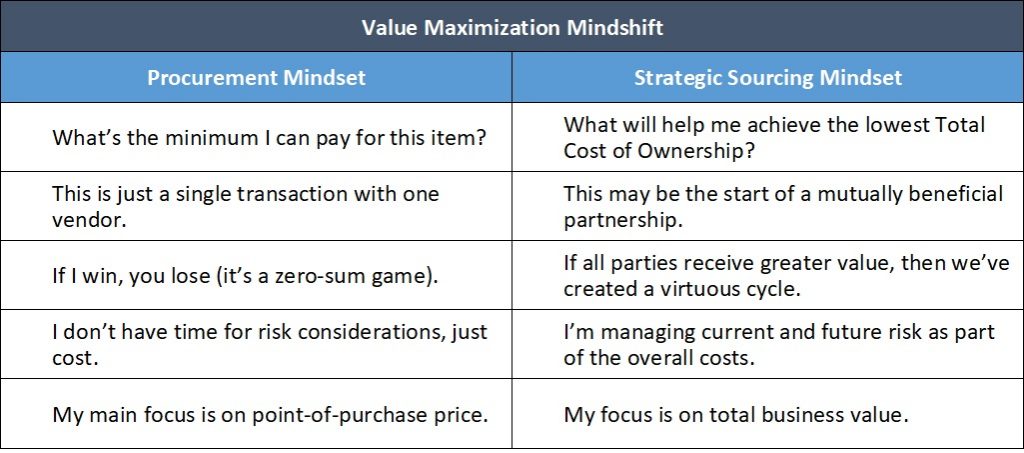 Long-Term Multiple Benefits
Taken as a whole, strategic sourcing delivers a number of benefits that contribute greatly to maintaining an organization's well-being during, and after, critical events such as the current pandemic. In other words, it is a critical undertaking that should be included as soon as possible in business resilience planning and activities. Some of the benefits include:
Lower cost of ownership
Improved supplier performance and quality
Enhanced decision support through spend transparency
Reduced process costs and order cycle times
Rationalized SKU lists
Increased volume of managed spend and minimized non-compliance
Stronger supplier relationships, leading to minimized supply risk and increased supply chain flexibility
Higher customer satisfaction levels among stakeholders
Greater control of working capital to support organizational growth and financial obligations
Improved purchasing process performance and effectiveness
Increased business reliance through scenario modeling
To achieve these results, strategic sourcing focuses on key value drivers that can be leveraged to exploit opportunities and minimize organizations' costs and risks. Examples of some of these value drivers include:
Lowered cost of goods sold through purchase price reduction
Reduced catalogue maintenance costs through consolidation of stock keeping units (SKUs)
Reduced purchasing complexity through consolidation of purchase orders, invoices and vendors
Decreased waste, scrap and obsolescence and protection of working capital by reducing inventory volume/usage
Decreased pricing volatility through the use of indexes and thresholds
Improved service levels with enhanced service level specifications and terms
Reduced disputes through enhanced contract compliance and resolution
Six Steps to Realizing Value
As might be expected when using a comprehensive process designed to capture extensive potential benefits, strategic sourcing is not a quick and easy fix. Typically, it can take anywhere from 2 to 6 months to fully complete the sourcing event and begin realizing the identified value. Six highly detailed sequential steps are required, as follows:
Sourcing Assessment develops a "spend tree" that prioritizes sourcing categories based on value.
Strategy Development identifies and plans the approach to realize value opportunities.
Strategy Execution identifies vendors and opportunities that can provide value to the organization.
Supplier Negotiations maximize value to all parties by balancing Total Cost of Ownership with risk and mitigation activities.
Supplier Award formalizes the relationship and codifies expectations and risk-sharing between the parties.
Agreement Implementation ensures that the change is smooth and that processes and management reporting are established to fully realize the value identified.
Understandably, organizations may be daunted by the extent of the process and the number of activities required to extract the maximum value from the opportunities. Rather than attempt to address all of the procurement opportunities at once, some organizations may prefer to concentrate their energies on specific departments, specific types of spend, or even individual vendors. Or some may just have no clear idea where to begin.
In these cases, we recommend that an organization start with a spend analysis. As discussed in an earlier blog, even a quick segmentation and classification of an organization's current spend can show significant vendor fragmentation and indicate the need for consolidation. A spend analysis can also reveal over-reliance on sole-source vendors and highlight potential risk-mitigation opportunities. And it can disclose price variations that can lead to cost reductions through the strategic use of RFPs, leveraged purchasing power across multiple organizational units, and the monitoring of rogue spend within the organization.
Regardless of where the process begins, strategic sourcing can deliver significant and sustained value beyond just savings – during the pandemic and long afterward. It can provide more efficient use of capital, and it can build greater confidence among management that the enterprise as a whole is not only deriving optimal value from its supply base but also maintaining a resilient procurement ecosystem.