The seismic shift in project management functions from administrative to a consultative business partner is helping organizations transform across the enterprise and all areas of the project life cycle. In many companies, these transformational efforts are progressing well, coordinated by new lean-agile program management office (PMO) leaders. But for others, transformation is still out of reach.
The latest Executive Perspectives on Top Risks survey from Protiviti and NC State University's ERM Initiative found that directors and executives are very concerned about competition with "born digital" companies who operate in a highly agile manner. Why are so many organizations experiencing difficulties in moving toward agile transformation to accelerate their digitalization footprint? In previous blogs in this five-part series, we have shared Seven Key Factors to a Successful PMO Transformation and discussed Transforming Delivery Through Value Streams. We conclude this series with an exploration of how to determine preparedness for an agile transformation and how to infuse new energy into agile transformations already underway.
Are you really ready to take on agile?
Successful agile transformation requires more than a decision to change. It is a shift in the organizational mindset and corporate culture. Before embarking on an agile transformational journey, companies should determine if agile is right for them, and should evaluate the risks, educate leadership and stakeholders, and begin defining an agile transformation roadmap.
The following key indicators will demonstrate whether the organization is prepared for change:
Executive leadership embraces change that will create more organizational value. This is usually driven by a sense of urgency to respond to shifts within the market, industry or society. Moreover, forward-thinking executives are likely to embrace agile transformation proactively ahead of any impactful events.
A strategic vision is articulated that aligns the leadership and the organization to a common goal. Resistance to change is a leading challenge to transformation, but communicating a compelling mission motivates people to move toward the target destination.
People are empowered to take ownership of the vision within the agile transformation. Leadership supports a culture of learning and agile education. Roles and responsibilities are defined, and the people are entrusted to create self-forming teams to achieve the mission.
Signs of failed adoption
Many organizations attempt to adopt and transition to agile methodologies, but struggle or ultimately fail. In the 14th Annual State of Agile™ Report, conducted by Digital.ai, 84% of respondents said their organizations were below a high level of competency with agile practices.
A full organizational agile transformation takes time — as much as two to five years or more — as it involves a change in culture within the organization. Company leaders must understand this is not an easy journey; it requires continuous reflection and improvements. Agile transformation must be considered a priority organizationwide; otherwise, the effort will fail.
The table below highlights 10 challenge areas that may reveal problems with an organizational agile transformation: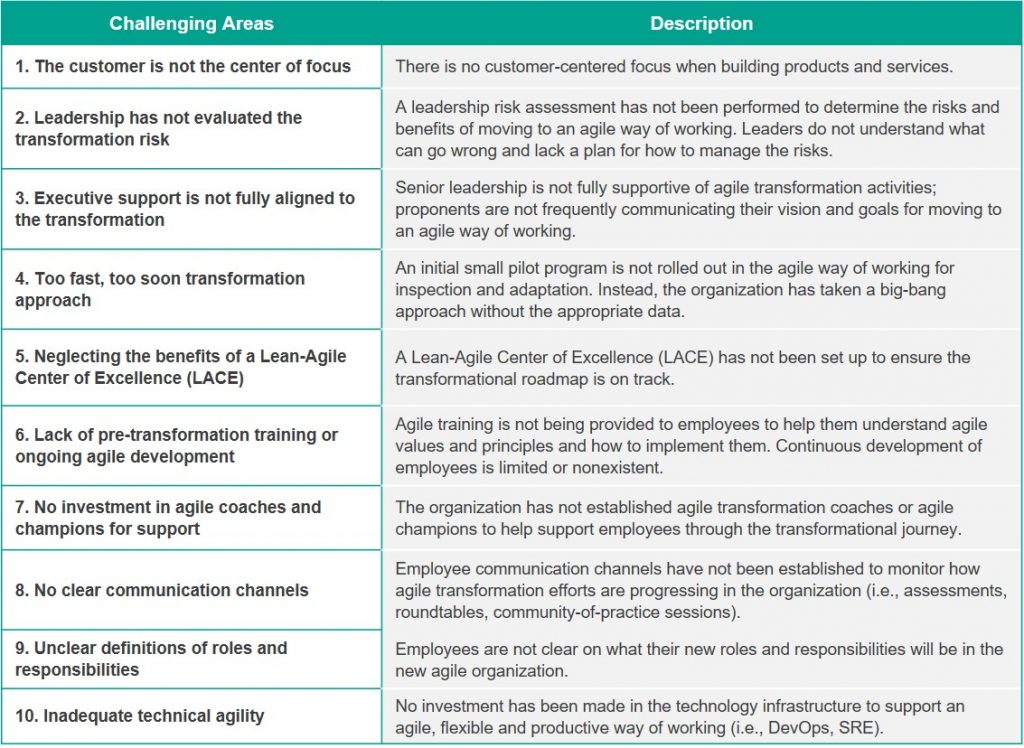 Recharging your agile transformation efforts
Whether you are a career Agilist or an Agile Novice, you may find your organizational agile transformation efforts need invigorating. The following actions can help inject life into your transformation:
Set the tone from the top: Ensure leadership across the organization continues to embrace and support the agile transformational changes and communicates their support and vision to the organization.
Assess maturity levels: Measure the maturity level of the organization's agile capabilities by assessing the team agility, organizational agility and agile technical excellence. This will help identify areas that are working well and areas that need improvement.
Invest in resources and skills: Bring in agile transformational coaches to help train employees and transform successfully. In addition, invest in skilled resources to help move the transformation journey forward.
Improve tools and processes: Stand up a Lean Center of Excellence team to help ensure that organizational agile practices, processes and tools are in place to facilitate a successful agile transition.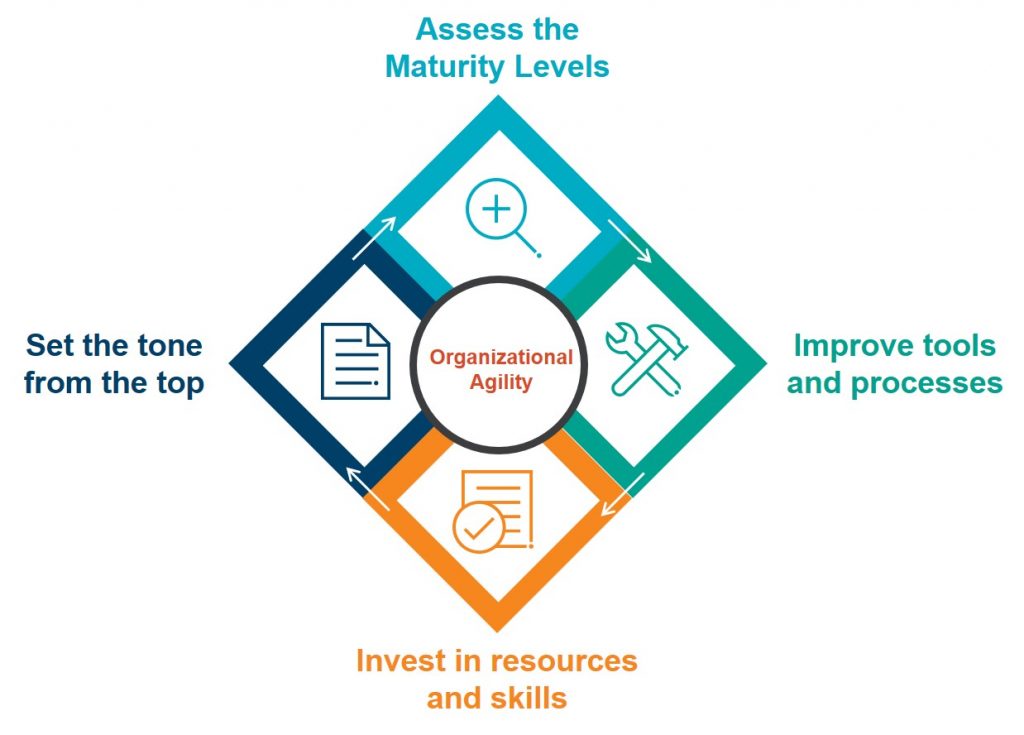 Once the foundation is reestablished, begin small with an agile pilot program to prove out the benefits and obtain buy-in from leadership and the rest of organization. Continue to roll out more agile teams until the whole enterprise is executing the recharged agile model successfully.
Successful agile transformations are critical for organizations as digitalization continues to disrupt the market, requiring companies to quickly adapt and respond to changes to stay competitive. Ensuring your organization is adequately prepared and recharging your existing efforts can put your transition on the road to success.