The Federal Energy Regulatory Commission (FERC) final rule Order 2222, issued in September 2020, opens the country's wholesale energy markets to distributed energy resources (DERs) like rooftop solar, behind-the-meter batteries and electric vehicles. This new order lifts many of the restrictions and barriers to entry to the wholesale market for DERs, including allowing them to aggregate. Before this, the wholesale power market was essentially restricted to transactions between traditional generators and resellers.
Since its creation, FERC's central purpose has been to regulate the sale of electricity in the U.S. wholesale power markets. Today, these power markets are run by the regional grid operators (the regional transmission organizations [RTOs] and independent system operators [ISOs]). To that end, FERC continually updates its oversight and regulatory rules to meet its goal of reasonable and fair competition in the markets that it oversees. Its most recent ruling, Order 2222, has the potential to dramatically shift the landscape of those markets.
New Pathway to the Wholesale Market for Distributed Energy Resources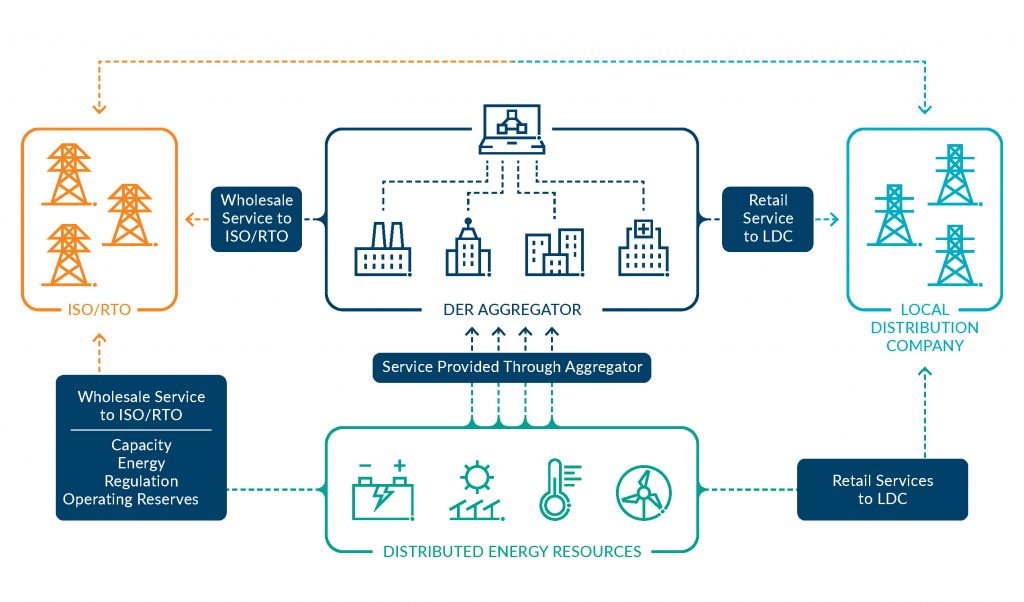 To quote FERC directly on its intent with Order 2222, it wanted to create "a level playing field." In this context, "level playing field" means making sure that DERs can compete in the market with traditional electric generation assets. Prior to this, FERC created similar orders for storage resources (Order 841, July 2020) and demand-response resources (Order 719, in 2008). So, we can see that Order 2222 is just the latest effort by FERC to establish more equal opportunities between traditional market participants and newer participants that are rapidly increasing and expanding. These changes are needed to pave the way for the grid of the future — one that has more flexibility, reliability and resiliency.
Aggregated rooftop solar, batteries, EV chargers, grid-responsive water heaters and air conditioners, and other DERs are cheaper and easier to install and operate than traditional power generation. They are also often faster to react in times of need. Additionally, they are likely to be installed in places with high demand (and high prices). The desired result is to lower congestion, decrease market inefficiencies, and eventually reduce power prices for end-use customers. Batteries, EV chargers and other fast-acting resources already have the proven ability to help regulate grid frequencies and deliver localized capacity across the country.
What does this new order mean for companies? It depends on where they sit in the value chain. For DER owners and aggregators, it's the potential to enter new markets with innovative business models. This, in turn, could lead to more revenue opportunities and asset optimization. For utilities, it means a whole new set of communication rules, compliance responsibilities and operational decisions. They have to make some real decisions around telemetry and metering, for example. It also means that utilities may have new competition if virtual power plants become a viable alternative for their current end-use customers. For the end user, it could mean potential savings: the avoidance of transmission and distribution costs, coupled with the potential for lower prices, from a more competitive wholesale market.
RTO/ISO compliance plan filings are due to FERC by July 19, 2021. That is only five months away. If the ISOs and RTOs don't get an extension on this date, look for a lot of information to appear, and change to occur, in the next five months.