Looking out over the next 12 months as well as the next decade, board members and C-suite executives all across the planet see a risky environment. There are concerns related to the pandemic; the future of work and the workplace; talent acquisition, retention and succession; disruptive innovation, new competitors and sustaining customer loyalty; the economy; regulatory change; utilizing sufficiently advanced data analytics and "big data"; and organizational culture and the impact of a hybrid work environment. Without question, there is a lot on the plate. It all adds up to a seriously disruptive decade ahead fraught with both significant opportunities and challenges.
These are among the major takeaways in the 10th annual Executive Perspectives on Top Risks Survey from Protiviti and NC State University's ERM Initiative. Conducted in September and October of 2021, the study surveyed 1,453 board members and C-suite executives from organizations in a variety of industries and regions globally. These business leaders were asked to provide their perspectives about 36 macroeconomic, strategic and operational risks issues in terms of their potential impact over the next 12 months and the next decade, into 2031.
The infographic below shows top risks and key highlights from our global study.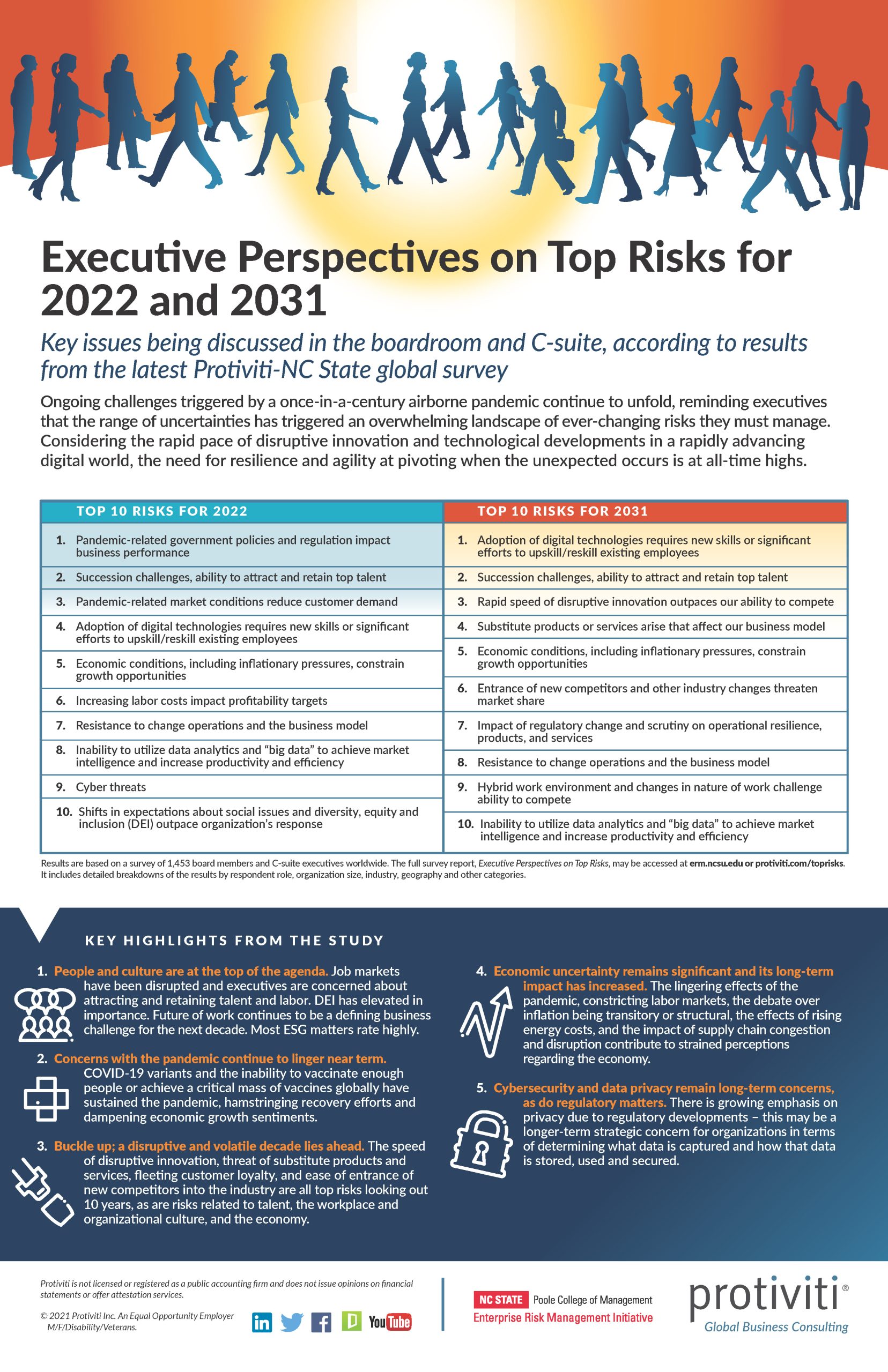 Among the study's key findings, pandemic-related regulation and market conditions due to COVID-19 remain top concerns for 2022 for board members and C-suite executives. Looking ahead to 2031, business leaders cite workforce and talent-related issues as their primary concern, indicating that the impact of the "Great Resignation" will persist as their organizations struggle to fill the talent requirements to support their strategies. Disruptive innovations and the adoption of transformative technologies requiring many organizations to upskill and reskill their workforces, as well as to attract and retain top talent, heighten talent as a chief concern over the coming decade.
A disruptive business environment shifts the focus to a new nimble
The tectonic plates of traditional workforce models and talent retention have shifted dramatically as a result of the global pandemic and digital transformation, a dynamic that, according to global leaders, isn't expected to go away any time soon. Looking forward, rather than searching for a "new normal," businesses need to shift their focus to adapting to the "new nimble."
In the survey findings for 2022, succession issues and the ability to attract and retain top talent jumped from number eight in last year's survey to number two. Notably, the ability to effectively manage and keep pace with shifting perspectives and expectations about social issues and priorities surrounding diversity, equity and inclusion ranked on the top 10 global risks for the first time in the survey's history.
The top risks through 2031
Survey respondents also rated the expected impact of the same 36 risks for 2031 to assess how the risk landscape might shift over the coming decade. According to survey respondents, concerns about the future of work are at the forefront (see infographic above).
The survey results reveal increasing impacts of ESG-related risks. Business leaders were asked to rank the risk of climate change and related regulations and policies affecting their strategies and business models. Respondents representing industries not dependent on fossil fuels indicated that they are less concerned with climate risk in the year ahead than over the course of the next decade, ranking it 29th in terms of risk priorities for 2022 and 19th for 2031. Whether this perspective in prioritizing the impact of climate considerations on the business is sustainable in view of stakeholder expectations and global events — for example, the recent COP26 summit — remains to be seen.
The survey report also includes a call to action, offering executives and directors diagnostic questions to consider when evaluating risk assessment and risk management processes.
The executive summary, full report, infographic and podcast are available for complimentary download here. Protiviti is hosting a complimentary one-hour webinar on December 9 to discuss the survey findings. Register for the webinar here. It will be available on demand.