Major disruptions in the global supply chain due to pandemic-driven labor and material shortages, catastrophic weather events, shipping port logjams, and the resulting spikes in commodity prices, elongated lead times, and capacity constraints, have dominated the headlines over the past two years. With recognition that future disruptions are inevitable, more companies, including oil and gas businesses, are recognizing they need to build supply chain resilience instead of hoping their business continuity plan will be enough to get them through the next "black swan" event.
In fact, in a recent survey, 93% of global supply chain executives said they plan to take steps to make their supply chains more resilient — even if it's at the expense of short-term profitability. Diversifying supplier networks, holding more critical inventory, and near-shoring and/or regionalizing the supply base are among the tactics many respondents said they would employ to increase resilience.
Taking steps like these to move from a "just in time" mindset to "just in case" can help businesses achieve greater agility in their supply chain operations as well. Agility, in this context, means having the ability to analyze situations, make decisions, and respond to changes quickly — and it's a key aspect of resiliency.
But here's something companies need to know about the value of agility and resilience in the supply chain. These powerful attributes don't just help the business respond to black swans that may emerge — they help fuel better decision-making every day. With greater agility and resilience, the business, over time, becomes more adept at responding to and resolving the types of general, commonly encountered events that can derail the supply chain if not properly managed.
Using Emerging Technologies to Fuel Resilience and Agility
From an oil and gas perspective, an example of a problem that can quickly snowball is an equipment maintenance issue that can't be addressed until a critical, highly specialized part that's stuck somewhere in the global supply chain arrives. This waiting game could result in a disruptive, costly outage that may last a long time and perhaps, even be dangerous.
But what if the company has embraced emerging technology like additive manufacturing or 3D printing, as part of its overall plan to improve supply chain resilience? Then it could simply create the part it needs on demand. Or, if it's a part that often fails, perhaps the company has proactively printed several replacements that are now sitting on the shelf in a nearby storage facility, ready to be put into action.
Some oil and gas companies are already using digital manufacturing for this purpose, and others are evaluating the technology's potential and feasibility within their supply chains. This is exactly the kind of proactive, future-forward thinking that businesses need to engage in if they want to stay ahead of the curve and create a more resilient supply chain. The result of this mindset and openness toward using emerging technology can lead to fewer supply chain disruptions — or, at least, improve organizations' efforts to detect and respond to events as they do occur.
Amplifying the Roles of Functional Disciplines to Increase Resilience
Oil and gas companies and other businesses don't need to wait for tomorrow's technology investments to start increasing supply chain resilience and agility. They can build a formal supply chain capability, and through that process, identify opportunities to start improving aspects of their operations (like leveraging emerging technology). But what all should be included when looking at internal capabilities that support resiliency? Here's an example framework for companies to consider: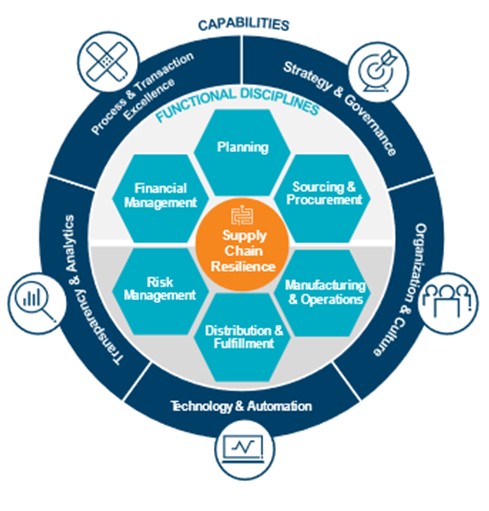 The framework's outer ring shows fundamental capabilities that span across processes, including strategy and governance, technology and automation, and process and transaction excellence. And the inner ring includes functional areas or disciplines that collectively make up the end-to-end supply chain. Following are some examples of how these various disciplines can help enhance supply chain resilience:
Planning: This function, which handles tasks such as strategic planning and integrated business planning (IBP), can be leveraged to drive tighter integration between customer demand, inventory, and distribution plans and strategies, as well as operations planning and preventive maintenance planning.
Distribution and fulfillment: This function is already responsible for managing critical supply chain-related activities such as warehousing and logistics. Taking this a step further, distribution and fulfillment functions can ensure alternate routes and carrier options are identified, real-time monitoring is employed to identify potential and emerging bottlenecks, and buffer stock to meet surge capacity or to address supply chain delays or disruptions is strategically placed. The function can also help to connect usage and replenishment triggers more closely to improve the organization's ability to identify and respond as market events occur.
Risk management: This function is uniquely suited to help the business understand the potential failure points across vendors and within its supply chain, and the likelihood of a risk event occurring and what the impact of that event might be, financial and otherwise. The organization can use this insight for scenario planning and enhancing its business continuity and risk response planning.
Supply chain resilience takes time to build and maintaining it is a never-ending process. It stems from purposeful planning, a focus on functional excellence, and ongoing support from the core capabilities and various disciplines shown in the example framework above. There are real bottom-line benefits to be realized from this effort, as multiple studies have shown that over the past 25 years, companies with leading supply chain capabilities have outperformed on shareholder return.
It's a safe bet that an organization's ability to achieve its operational and financial goals will be increasingly linked to its supply chain capabilities. But the simple fact that the world has become riskier and more uncertain in the past two years should be motivation enough to make supply chain resilience a priority. Leading companies understand this, which is why we're seeing the pendulum starting to swing away from ultra-lean, single-source supply chain approaches and toward greater redundancy.
Increasing resilience requires, in any respect, a mindset shift and a willingness to let go of "business as usual." That can be a tough sell for companies in industries like oil and gas where the mantra is, "This is how we've always done it." But to become and stay resilient in their supply chain operations, companies will need to adopt new ways of working, transform digitally, embrace emerging technologies like artificial intelligence, advanced analytics and 3D printing, and drive increased and even real-time visibility.
For businesses on the fence about embarking on this type of change initiative right now, consider this: You've already been disrupted — maybe now it's time to upend the status quo on your terms?