Innovation is about the creation of ideas and how those ideas can translate into value. It is about new and different ways of thinking and working, performing established activities in new and better ways, and pursuing new ideas.
Many organizations — including their CAEs and internal audit functions — are operating in a significantly different manner than they did just a few years ago. They are focused on engaging with customers in new and different ways, the overall customer experience, strategic and operational resilience, and making better use of data as a competitive differentiator, including through the application of advanced analytics methods, the pursuit and implementation of enabling technologies and more.
According to the results of our latest Next-Generation Internal Audit Survey, two out of three internal audit functions worldwide have completed or are currently undertaking one or more transformation or innovation initiatives. Three out of four CAEs report that these initiatives are happening, and many audit committees are highly engaged in their internal audit function's innovation and transformation efforts and the deeper insights they enable. But there are still numerous groups that have yet to take any steps toward innovation and transformation.
Important takeaways from our research:
Internal audit teams are focused more on innovation and transformation — Two out of three internal audit functions are now engaged in or have completed innovation and transformation initiatives, a 6% increase over our 2021 results.
Large organizations tend to be further along in their journey, but smaller ones are not far behind — A majority of internal audit groups in midsize and small organizations have undertaken or are currently undertaking innovation and transformation activities, and most of these groups are at a maturity level where the internal audit function actively encourages innovation and the exploration of new and better ways of delivering.
The ROI is there — Close to half of internal audit teams see a high or medium level of ROI resulting from innovation and transformation initiatives, while a majority of CAEs see these levels of ROI.
There may be an over-reliance on training and developing current staff to support innovation and transformation efforts — On average, more than half of internal audit functions are focusing primarily on training and developing staff to build skills and expertise in next-generation internal audit competencies. This approach could be placing inordinate demands on internal audit teams that have been working at or beyond capacity over the past couple of pandemic-driven years.
The key is getting started — While a majority of internal audit functions are engaged in innovation and transformation activities, many remain in the early stages. This is not a problem, as the key is to get started and move forward.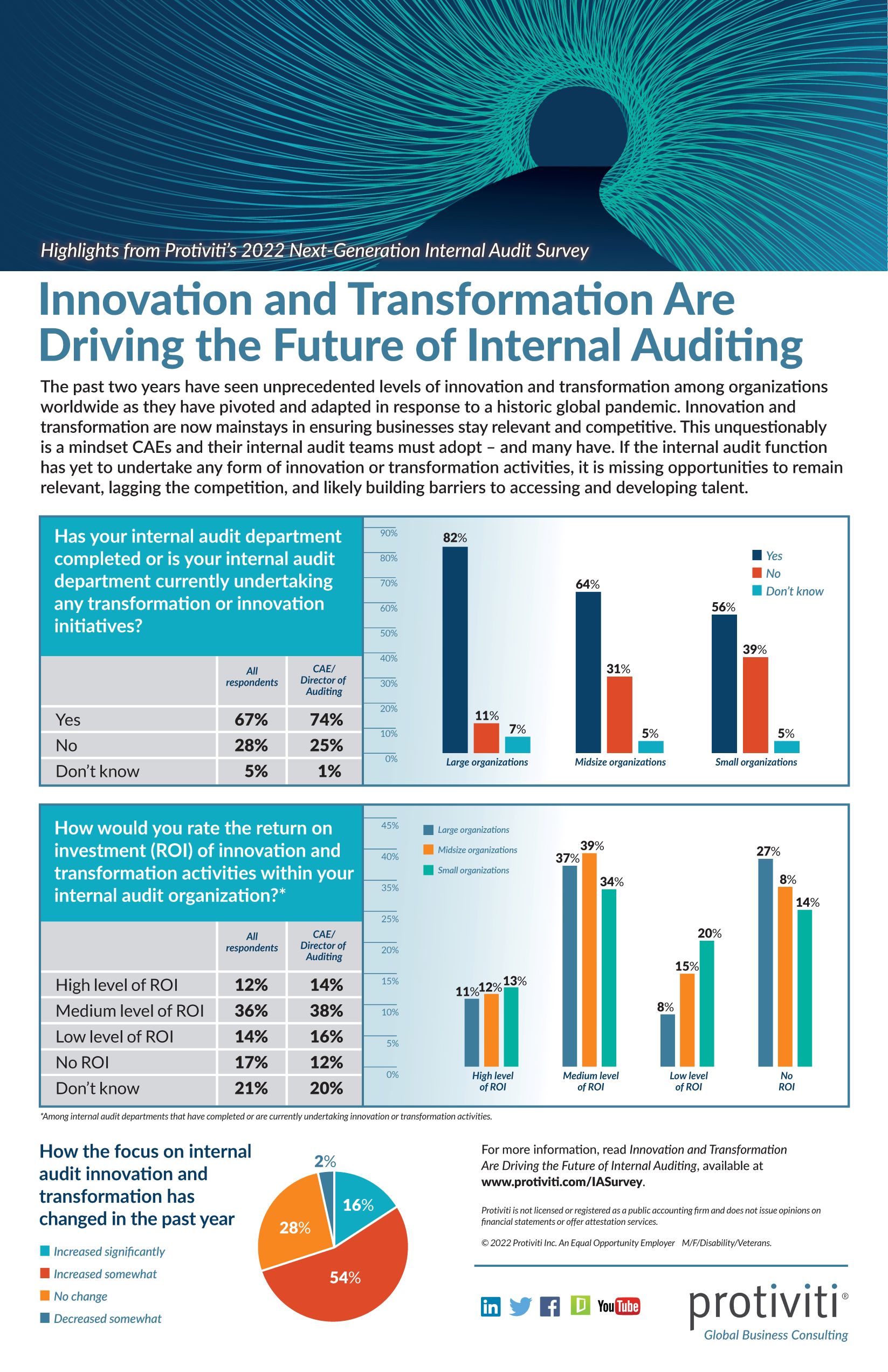 Now is an ideal time for internal audit teams to build on all the change they've experienced and helped to spearhead over the past two years. They can take advantage of business stakeholders' newfound openness to working more collaboratively and even proactively with the internal audit function. Organizations are already disrupted. And as the business continues to change in response to new challenges, internal audit must keep changing right alongside it.
Learn more in our survey report, podcast, infographic and webinar, which are available here.