When I sat down to interview more than 25 executives, leaders, authors, speakers and visionaries about the future of work, the theme that is currently the focus of VISION by Protiviti, I knew I would be treated to bold, even unconventional ideas and given a peek at trends and opportunities most of us have not yet considered. So, I made sure to ask my interviewees two questions — what's your bold prediction for the future 10 years out, and what call to action do you have for businesses and leaders today?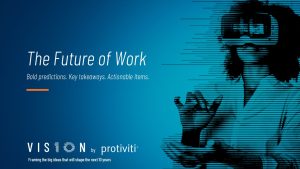 The answers to these questions vary based on whether our conversation was about talent, jobs, transformative technology or office space, and they are worth highlighting. This short visual summary sums up our interviewees' bold predictions and calls to action and includes key facts and graphics from the Protiviti-Oxford global survey of executives and board members about the future of work. Digital presence, working in the metaverse, brain diversity, pop-up work locations, empathy and humanizing the workplace … it's a conversation starter, for sure.
How will your workplace be affected? Join this conversation by sharing your thoughts here or on the VISION by Protiviti site. Join the VISION community by subscribing to our newsletter — and receive the full Oxford report on the future of work.