These are dynamic times for CFOs and their finance teams, and they are not likely to change any time soon. As strategic programs for ESG, technology transformation, supply chain transformation, talent management and more continue to expand, executive teams are leaning more heavily on the finance organization to provide the data, analytics and insights they need to make informed decisions. And who knows what other priorities may soon emerge that will compel CFOs and finance teams to further reimagine their expanding roles.
The takeaways from the results of our latest Global Finance Trends Survey show that, not surprisingly, CFOs are continuing to position themselves as key contributors to the enterprise's strategy and related dialogue in the C-suite and boardroom.
Notable findings from our research include the following:
Use of flexible labor models is on the rise: Amid the ongoing war for qualified talent, more finance organizations are leveraging managed services providers and staff augmentation options to obtain in-demand and hard-to find skills and resources in areas including financial reporting, accounts payable, strategic finance and PMO activities. Leveraging a flexible labor model is especially advantageous amid uncertain market conditions.
Security and privacy of data remains the top priority … but barely: Similar to prior years, security and privacy remains the top-ranked priority globally for CFOs, but other finance areas trail close behind, including profitability reporting and analysis, blockchain, and leadership skills.
Blockchain rises: While never a low-ranked finance priority, blockchain and smart contracts have jumped well into the top 10 this year.
ESG strategies and reporting take center stage: From increased focus on and frequency of ESG reporting to formal and documented DEI programs, CFOs and finance leaders are devoting more time, attention and resources to enterprise ESG initiatives.
Inflation is a concern — though for CFOs, not a major one at the time of the survey (June and July of 2022): It's not surprising to find the impact of inflation (a new area added to this year's survey) among the top overall priorities in the study, but it ranked noticeably lower for CFOs than other finance leaders when the survey was taken, perhaps indicating their greater awareness of measures their organizations are already taking or their views on other trends that may have then been emerging.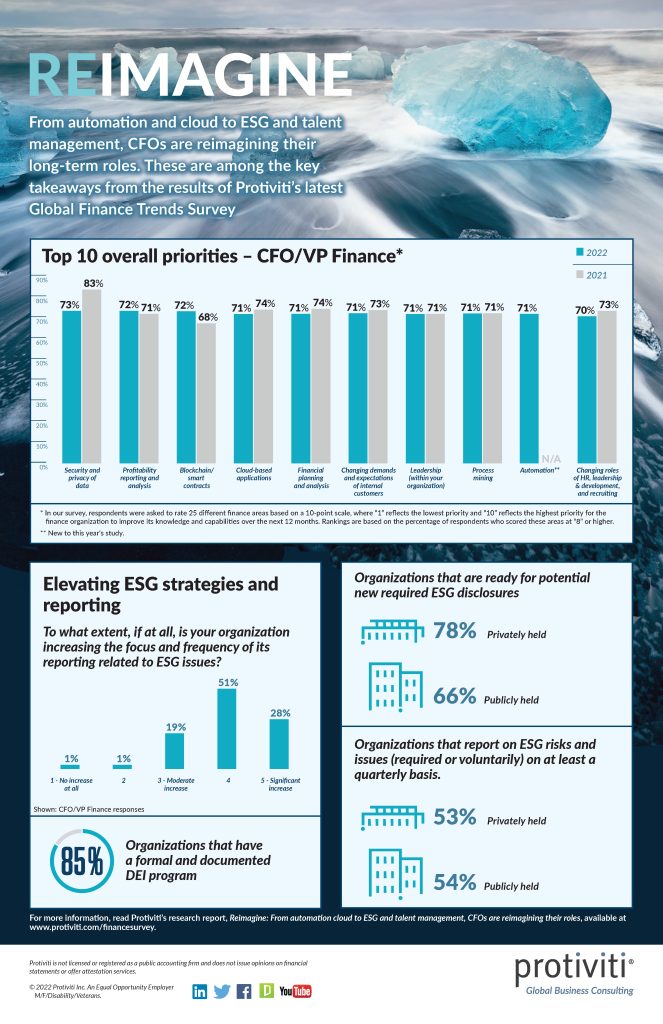 Take a few minutes to dig into our survey findings, from the top finance priorities as rated by your peers to how they are addressing inflationary and other market trends, ESG reporting requirements, and more. And we hope you gain further appreciation for the strategic vision the CFO and finance organization are helping to drive in today's leading organizations.
Our survey report, briefs and infographic are available here. You also can listen to commentary from our experts addressing various finance challenges, including supply chain management, talent management and inflation. In addition, we are hosting a complimentary webinar on Thursday, September 22, 2022, at 1 p.m. EDT, to discuss the results of our survey. You can find more information here.