A VISION by Protiviti survey, conducted by the University of Oxford and Protiviti and polling 250 global executives on their 10-year outlook related to environmental, social and governance (ESG) issues as they relate to business, revealed that business leaders in different regions of the world differ significantly in their perceptions of ESG issues as well as in their sense of urgency to address them.
A persistent theme throughout the survey findings is the apparent disconnect between North American executives and their European and Asia-Pacific counterparts when it comes to questions such as the strategic importance of ESG to business, the amount of change businesses anticipate to make to reduce their impact on the planet, the expected regulatory pressure and reporting requirements, and even their perception of environmental risk to their businesses.
For example, 39% of executives in North America view risk to their businesses posed by environmental factors over the next 10 years as "low," and only 7% view such risk as "extreme." This is surprising, considering the growing economic costs of extreme weather events caused by global warming, and the potential investment implications. By contrast, the percentages of concerned executives in Europe are 15% (low risk) and 23% (extreme risk) and in the Asia-Pacific region are 18% (low risk) and 34% (extreme risk).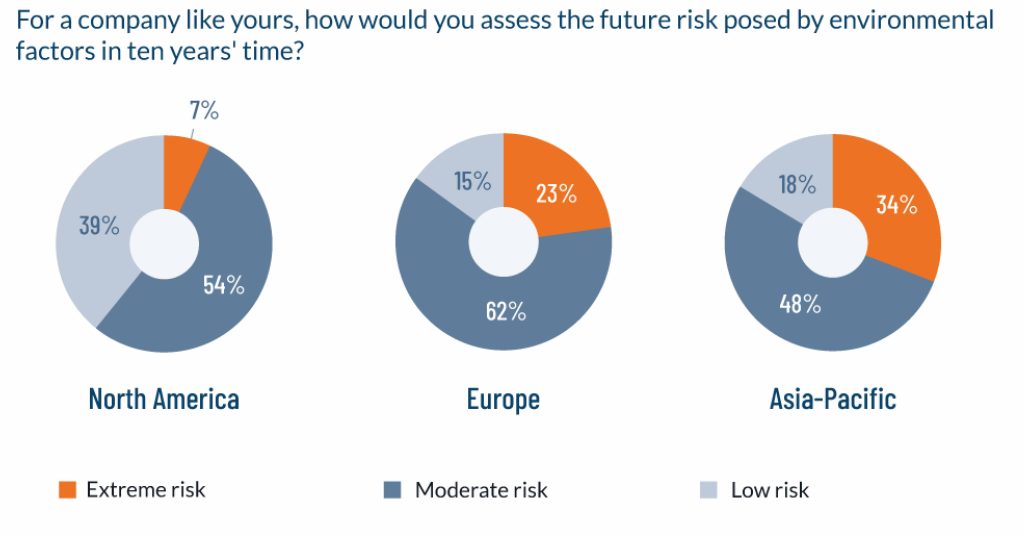 Likewise, just a quarter of North American executives think ESG will be extremely important to business success, while in Europe and Asia-Pacific the number is well over half — 58% and 71%, respectively.
Where executive do align is on the ESG drivers: Across the three regions, business leaders see customer demands as a driver for ESG efforts, followed by regulatory demands. (In Asia, public perception actually trumps regulatory demands, but that does not significantly change the picture overall.) Another point respondents agree on: When considering ESG, the environmental factors rank highest in importance, and the governance factors rank lowest. Social issues take the middle spot; diversity, equity and inclusion (DEI) are a high priority in all three regions, with regional variances on what to tackle next.
The survey findings are interesting when broken down by age, as well. Executives under 50 years old express higher levels of engagement and concern, particularly with regard to the environment, and they also view social factors, including public perception, as more important than their over-50 counterparts do. Nearly half of Asian-Pacific respondents were under 50, while that number was lower in Europe (27%) and North America (36%).
I invited the University of Oxford's David Howard, Nigel Mehdi and Vlad Mykhnenko to unpack the findings in a video panel discussion on VISION by Protiviti. Our conversation focuses on the most significant findings among the 20 core questions we asked of the survey participants. You can watch the panel discussion here, along with an executive summary of the key findings. Access to the full report is available to VISION by Protiviti subscribers.