Talent challenges, succession planning, culture, supply chains, emerging technologies, the economy … what are the top risk concerns for the coming year and the next decade?
The infographic below presents the top global risks and key highlights from our global study.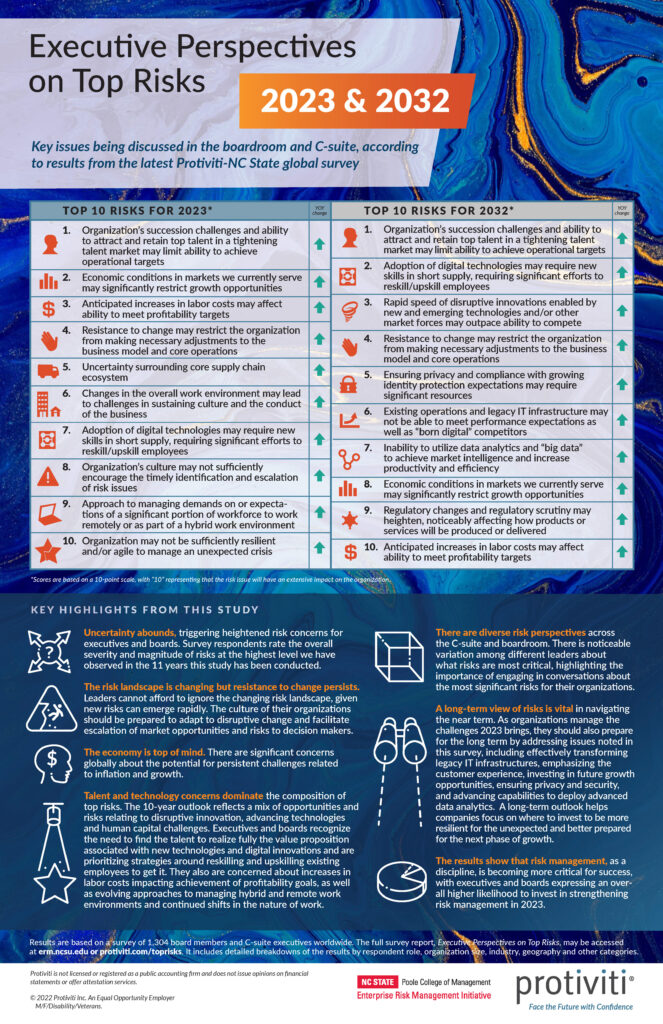 According to the latest Top Risks Survey from Protiviti and NC State University's ERM Initiative, uncertainty in today's marketplace is presenting both new and ongoing risk concerns for board members and executives. Alongside talent, technology, labor and culture-related risks, the survey also reveals that senior decision makers remain concerned about broader macro risks such as the inflationary economy and the state of global supply chains.
Our survey was conducted online in September and October of 2022 to capture perspectives on the minds of leaders as they peered into 2023 and over the next decade into 2032. We surveyed 1,304 board members and executives across a number of industries and from around the globe, asking them to assess the impact of 38 unique risks on their organization over the next 12 months and over the next decade.
Key takeaways
The results of this year's survey reveal that the scope of global risks has continued to become more expansive, and the number of different risks rated as major risk concerns is only growing in nature and type. The level of uncertainty in today's marketplace is rapidly evolving and, according to our survey, more change is coming.
Uncertainty abounds, triggering heightened risk concerns for executives and boards. Survey respondents rate the overall severity and magnitude of risks at the highest level in the 11 years this study has been conducted.
The risk landscape is changing but resistance to change persists. Leaders cannot afford to ignore the changing risk landscape, given new risks can emerge rapidly. The culture of their organizations should be prepared to adapt to disruptive change and facilitate escalation of market opportunities and risks to decision makers.
The economy is top of mind. There are significant concerns globally about the potential for persistent challenges related to inflation and growth.
Talent and technology concerns dominate the composition of top risks. The 10-year outlook reflects a mix of opportunities and risks relating to disruptive innovation, advancing technologies and human capital challenges. Executives and boards recognize the need to find the talent to realize fully the value proposition associated with new technologies and digital innovations and are prioritizing strategies around reskilling and upskilling existing employees to get it. They also are concerned about increases in labor costs impacting achievement of profitability goals, as well as evolving approaches to managing hybrid and remote work environments and continued shifts in the nature of work.
There are diverse risk perspectives across the C-suite and boardroom. There is noticeable variation among different leaders about what risks are most critical, highlighting the importance of engaging in conversations about the most significant risks for their organizations.
A long-term view of risks is vital in navigating the near term. As organizations manage the challenges 2023 brings, they should also prepare for the long term by addressing issues noted in this survey, including effectively transforming legacy IT infrastructures, emphasizing the customer experience, investing in future growth opportunities, ensuring privacy and security, and advancing capabilities to deploy advanced data analytics. A long-term outlook helps companies focus on where to invest to be more resilient for the unexpected and better prepared for the next cycle of growth.
The results show that risk management, as a discipline, is becoming more critical for success, with board members and executives expressing an overall higher likelihood to invest in strengthening risk management in 2023.
The executive summary, full report, industry briefs, infographic and podcast are available for complimentary download here. Protiviti is hosting a complimentary one-hour webinar on January 11, 2023, at 9 a.m. PST/noon EST, to discuss the survey findings. Register for the webinar here.