Internal audit functions face a continuing talent crunch and ongoing demands to support the organization's transformation efforts in response to external events and evolving business strategies and priorities. Amid these challenges, CAEs are focused on enhancing internal audit's relevance with the board, senior executives and other stakeholders, per findings from Protiviti's 2023 Next-Generation Internal Audit Survey.
Being relevant means being connected and aligned on what's important and being insightful and providing value through communications and other forms of information sharing. For internal audit functions, elevating their relevance and the value they deliver requires ongoing evolution and a committed focus on continuous improvement through innovation and transformation.
The results of our research reveal that when it comes to these objectives, many are pursuing them by focusing on access to required talent — filling the technology skills gap is an acute need — and advancing internal audit's technology enablement, the maturity of which continues to lag other Next-Generation Internal Audit capabilities (a trend we have seen in prior years of our study). They also are focusing on producing and delivering highly impactful communications, including through the reporting process.
Other notable takeaways from our research:
Top-performing internal audit groups share similar traits — They focus more on streamlined, tailored, impactful communications and reporting, they evolve and adapt routinely, and they push themselves to find and build talent and resources from both within and outside their organizations.
Impactful communications, along with the methodologies, data and systems required to produce them, are the most important contributor to growing internal audit's relevance — Efficacy of communications and reporting requires the optimization of activities throughout the audit lifecycle, including risk assessment, scoping/planning, project, status, audit committee reporting, and issue follow-up and validation.
Competing priorities are the greatest barrier to internal audit innovation — Perhaps not surprisingly, this is the case across different groups of survey respondents, Next-Generation Internal Audit maturity levels and other segments. For organizations struggling with these challenges, it may be of comfort to learn they are not alone.
Next-Generation Internal Audit Enabling Technology maturity levels continue to lag — Though there are some improvements in the results, overall maturity levels in enabling technology competencies, including advanced analytics, automation and process mining, continue to lag reported skill levels in governance and methodology components such as aligned assurance, strategic vision, agile audit and dynamic risk assessment.
Access to talent, especially technology skills, is a major challenge requiring innovative approaches — Fewer than six in 10 internal audit functions, on average, have access to the talent they need across any of the 12 Next-Generation Internal Audit competencies. CAEs view the ability to recruit qualified candidates and retain their people as their top HR-related concerns.
The board and C-suite support internal audit's innovation agenda — There is strong executive management and board support when it comes to acquiring or developing the necessary talent and skills related to next-generation governance, methodology and enabling technology capabilities in the internal audit function.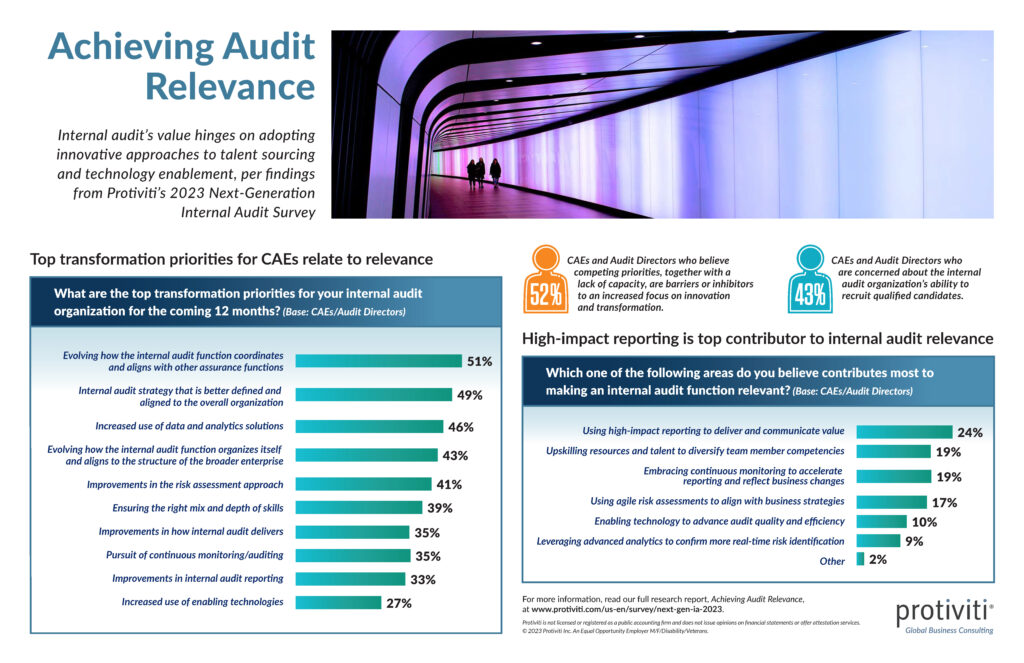 Learn more and read our report and insights here.