Innovation is the name of the game in today's global market. Recognizing this new reality, CIOs, CTOs, CISOs and other technology executives and leaders are exploring new ways to fuel innovation throughout their organizations. However, there are many roadblocks on this path, per findings from Protiviti's 2023 Global Technology Executive Survey.
For this survey of technology executives worldwide, Protiviti set out to understand how organizations are tackling their current and future technology needs — specifically, how they are pursuing innovation initiatives that will fuel long-term value while also addressing the burden of managing their organization's technical debt. We also explore the types of emerging technologies in use today or that organizations are planning to implement, as well as challenges related to skills, talent and collaboration.
Analysis of this research exposes a number of trends and themes that should be of great interest to technology leaders seeking to help their organizations achieve competitive advantage and grow their capabilities and offerings.
Notable takeaways from our research include:
Technical debt remains a critical burden — On average, an organization invests more than 30% of its IT budget and more than 20% of its overall resources to manage and address technical debt. Further, nearly seven out of 10 organizations believe technical debt has a high level of impact on their ability to innovate. For the most part, companies that are pursuing modernization to actively reduce technical debt are finding that innovation is a key methodology to get the most out of the process. Innovation brings with it new insights and ways to use collected data, as well as service customers better.
Goals do not equate to strategy — Most organizations indicate they have clearly defined innovation goals; however, nearly half of organizations report they have not fully created a strategy to define that innovation.
The priority is optimization — The area in which organizations focus their innovation efforts more than any other is optimization of current systems and processes. By comparison, there is less focus on resilience and growth.
Regulatory compliance and cybersecurity represent significant concerns — When it comes to innovation, IT leaders view regulatory and compliance requirements as the top challenge their organizations must address. Security is also top of mind: Four out of five organizations have a high level of concern about security risks related to the implementation of innovative new technologies. Regardless of organization size, there remain significant questions and uncertainty when it comes to balancing innovation with protecting critical systems and data.
Access to talent, culture, budgeting and agile processes are the keys — They are the foundational elements to fuel innovation, alleviate technical debt and deal with competitive challenges.
Labs and think tanks are deployed often but not always — While a majority of organizations have created a dedicated lab or think tank that is focused on innovation, two out of five have not. Of note, as company size grows, so does the percentage of those leveraging these approaches.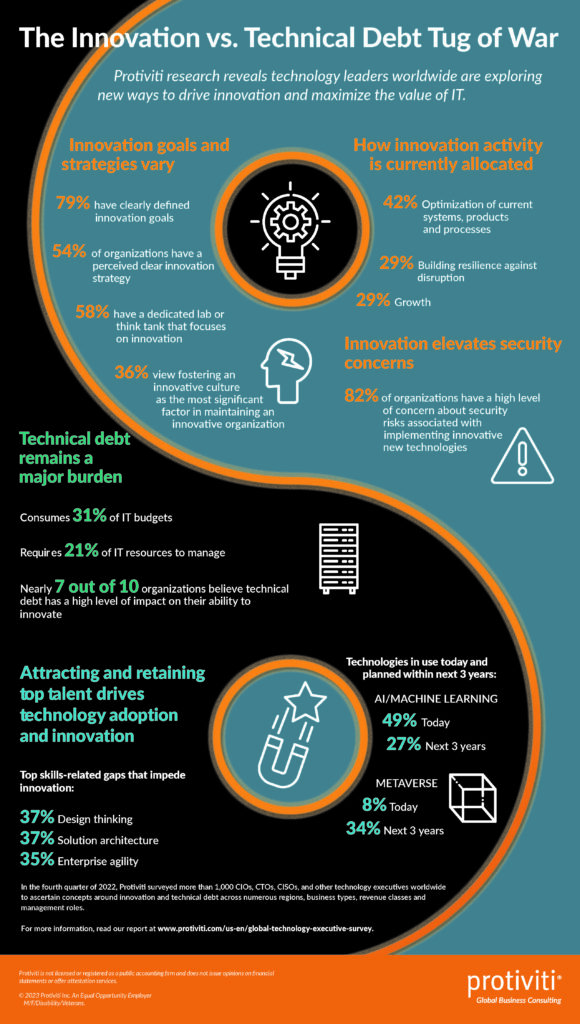 Learn more and read our report and insights here.