Today's business leaders face a barrage of challenges, including economic turmoil, quiet quitting, inflationary pressures, supply chain issues and increasingly complex business models. But across the globe, boards of directors and executives rank workforce challenges, including attracting and retaining talent, rising labor costs, inadequate skill sets and the impact of workforce expectations on organizational culture among their top risks for 2023 and a decade beyond.
In January 2023, Josh Bersin, an analyst and author focused on business workforces and the global talent market, issued predictions for the coming year. Topping the list were workforce demographics and culture, the need to grow revenues while reskilling and redeploying workers, and redefining organizations to align with new ways of working.
All of these workforce and labor shifts are changing the way organizations plan for the future, and leaders know their opportunities for success will be shaped by redesigning work and building new skill sets. Meanwhile, HR teams are left trying to do more with less even as new approaches and strategic thinking become essential. HR teams are struggling to succeed in tight labor markets under multiple new pressures using the same toolkits they've used for decades – and it's not working. Doing more of the same things that have worked in the last five to 10 years won't help HR teams prevail; neither will adding more HR personnel – unless they rethink the way they attract and retain talent.
To become and remain an employer of choice, HR leaders will want to reimagine workforce planning across six key capabilities: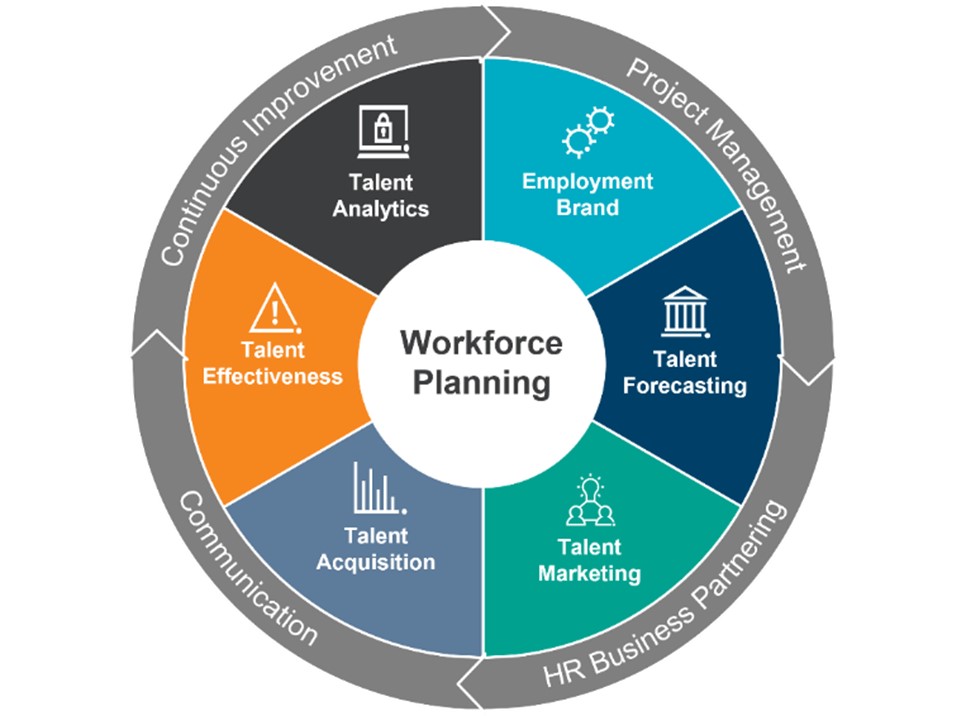 Employment branding: developing the employment value proposition and brand plan based on research into the values and priorities of target candidates as well as a deep understanding of the employee experience the organization supports.
Talent forecasting: building scenario-based workforce planning capabilities to calculate talent requirements and create hiring plans that respond to immediate, short-term and longer-term needs.
Talent marketing: identifying and cultivating the most effective channels for recruiting target candidates 24/7/365. Talent marketing needs a resource plan and investment to develop marketing communications and assess performance of recruiting efforts to ensure the talent pipeline can meet the needs of the business.
Talent acquisition: creating sourcing modes to attract and acquire target candidates such as third-party recruiting hubs, contractors or managed services, as well as monitoring the performance of job postings and other recruitment efforts while also capturing candidate responses and feedback for continuous improvement.
Talent effectiveness: redesigning work and pivoting away from old job architectures while building talent marketplaces that include a deep understanding of what people are good at and the work that needs to be done – supported with career pathways that plug people into the right roles and projects. This agile approach to talent effectiveness is ongoing and means people will need to upskill and reskill continuously.
Talent analytics: referring to data analysis around talent acquisition and optimization processes and ultimately strengthening HR strategy. Talent analytics initiatives can include hiring analytics, feedback and listening analytics, skills inventories, identification of leadership potential, and optimization analytics. A strong talent analytics foundation is necessary for context, meaning and insight across candidates and the workforce.
Organizations who cultivate these new HR capabilities will effectively navigate today's workforce challenges.
How organizations are overcoming workforce challenges
Many organizations either don't see the opportunity to develop new HR capabilities or don't see the reskilling of HR as relevant to their business. Others see the relevance, but hope hiring new recruiters, posting on a new job board or improving benefits packages will move them ahead of their competition. The volume, complexity and scope of recent challenges, however, call for new responses.
Recognizing that new challenges call for new skills, some HR leaders are turning to third parties to attain expertise in employment branding, talent forecasting, marketing, acquisition, effectiveness and analytics. While some organizations might engage the most prominent third party for each capability, others have found a single advisor possessing expertise in all six areas – as well as in digital transformation – is best equipped to help simultaneously develop all six capabilities within their HR departments. These leaders see their partnerships with third-party advisors in this way: they allow the advisor to accelerate attainment of a future-state vision for their departments with resource support and by transferring new HR skills to their current staff, hiring in new HR skills on the organization's behalf, providing new HR capabilities on a buy-as-needed basis, or through a combination of all of these approaches.
The winning strategy
The single-advisor strategy modernizes an organization's HR capabilities in a more efficient and integrated way than going it alone or buying solutions piecemeal. With the right partner, HR leaders get the best mix of employment branding, talent forecasting, marketing, acquisition, effectiveness and talent analytics – what they want and when they want it – right-sized to the needs and priorities of their unique organizations. A single third-party advisor with expertise in all six of these HR capabilities, paired with digital transformation expertise and comprehensive talent management resources, will equip HR departments to navigate today's workforce challenges.
HR teams were already stretched thin before these recent complex dynamics emerged. Thus, asking HR to work harder or do more of the same will fall short of solving the organization's talent challenges. Many experts agree that talent scarcity will be an enduring top risk for business leaders for the next decade and beyond. Collectively, these six HR capabilities with the right strategic integrated implementation and support can ensure that your organization becomes an employer of choice.