More than two-thirds of global leaders believe the metaverse will be important to their company's business success over the next decade. The same number (66%) predict it will have a significant economic impact overall.
 There's no question about it: There is plenty of executive enthusiasm on the promise and potential of the metaverse future. That's just one takeaway from a new Protiviti-Oxford survey, Executive Outlook on the Metaverse, 2033 and Beyond, published by VISION by Protiviti.
By the numbers
A surprising number of executives globally (55%) say they are already using the metaverse for business purposes. When we asked them to finish this sentence: "In a decade, the metaverse will be …"
44% said "an environment worth exploring with still plenty of untapped potential"
37% said "a business game-changer, akin to the internet"
Only 16% thought it would be a niche space for tech-savvy companies, and 3% thought it would have minimal impact or be irrelevant to their business.
Overall importance of the metaverse over the next 10 years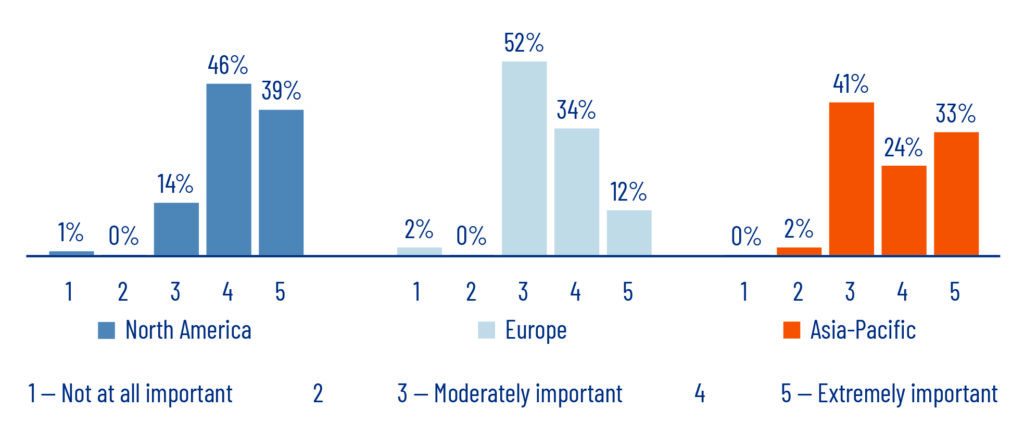 In North America, optimism abounds
85% say future business success hinges on the metaverse (somewhat or extremely important).
84% believe in its potential global impact (significant or somewhat significant)
65% say they already have a metaverse strategy in place
78% say they have near-term plans to develop metaverse products and services
68% say they're already using the metaverse externally for customer engagement
Remarkably, all of the above percentages exceed European and Asia-Pacific responses by a roughly double margin.
The metaverse will be key for customer and employee engagement
70% of executives globally say the metaverse will be somewhat or extremely important for customer and employee engagement in the next 10 years. But many of them are not waiting around that long to use it for this purpose:
45% say they've already begun
20% say they'll start in one to two years
32% say their timeline is three to five years
Engage how?
For customer engagement, the top three ways are:
Marketing/Advertising (79%)
Immersive Shopping/Product Simulations (43%)
Conferences/Trade Shows (40%)
For employees, companies are planning on:
Immersive Training & Learning (54%)
Collaboration (45%)
Recruitment (41%)
As to which emerging technologies those customers and employees will engage with, executives told us they are most excited about the potential of Augmented, Virtual & Extended Reality (65%) and Artificial Intelligence (58%).
Go deeper
The survey report delves deeper into the findings, including perceived roadblocks, metaverse decision making and more, with specifics by region and age.
Read the executive summary here. To download the complete Executive Outlook on the Metaverse, 2033 and Beyond, subscribe to VISION by Protiviti.