What we found: Eighty-five percent of executives expect a cashless society as soon as 2028 and are preparing to embrace a new, digital currency future, according to the results of a new global survey, Executive Outlook on the Future of Money, 2033 and Beyond, which Protiviti conducted in collaboration with the University of Oxford.
Why it matters: The survey, part of VISION by Protiviti's exploration on the future of money, found that executives are aware that the extinction of paper and coin money will change permanently how businesses and the global economy operate. Most business leaders (87%) also anticipate that digital currencies like Bitcoin, Ethereum and Tether will have an impact on their business over the next 10 years, but the scale of that impact is still uncertain.
Bottom line: Status quo disruption; fraud and privacy risks; and new, regulated and unregulated, forms of digital money have the potential to upend global financial systems, but executives appear cautiously ready to withstand the shifts, with high confidence in the future of the U.S. dollar – whether paper or digital.
Go deeper.
Digital Currency Poses Risks, Executives Are Prepared
A transition from cash to digital currencies poses risks: 88% of executives say they expect at least a moderately increased business risk to accompany changes to the monetary system, and about half of those quantified the risk as moderate.
An overwhelming majority (89%) of business leaders say they are concerned about their ability to protect customer and client data in a digital currency-based future.
Sixty-one percent say that they expect crime, fraud and corruption to be prevalent in financial transactions over the next 10 years, raising concern for both businesses and their customers.
When it comes to digitized currencies, how concerned, if at all, are you with your company's ability to protect customer and client data?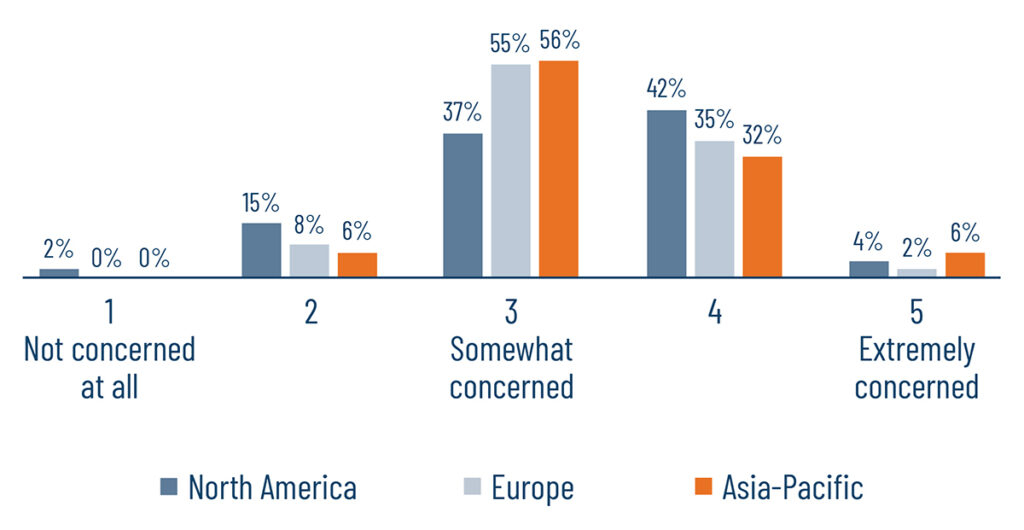 But executives also appear determined to deal with these risks: two-thirds (64%) say they are comfortable embracing digital currencies in the future, and the same number say that their companies are at least "somewhat prepared" for a significant disruption in monetary policies and structures.
New Technologies, New Opportunities
New technologies like AI, quantum, metaverse, NFTs and blockchain will become more important to businesses when digital money becomes the norm.
More than half of survey respondents say they expect emerging technologies to have an impact on their businesses' financial transactions over the next 10 years.
Seventy percent say they are likely to identify and leverage strategic partnerships with fintech companies, payment processors, or blockchain providers over the next decade.
Variability of Results
There was some regional variability of responses between North America, Asia-Pacific and Europe. For example, fewer executives in Europe feel well prepared for the digital future compared to their counterparts in the other two regions.
Industry-wise, financial services executives rated the risks in the digital future less extreme that other industry executives. They also expect more government regulation and are more likely to partner with technology providers to conduct business in the new environment.
The survey also distinguished the survey responses by age (under and over 50).
Learn More
The study surveyed 251 board members, C-suite executives and other business leaders across North America, Europe and Asia-Pacific, asking more than 20 questions on the future of money, transactions and value exchange over the next decade. Data was collected between July and September 2023.
Read our analysis of the survey results on the VISION by Protiviti website. For a free download of the full survey report, subscribe. Also tune in to our popular on-demand webinar, where representatives from Oxford, UPenn, Morgan Stanley and Ripple joined myself and my Protiviti colleague Lata Varghese to discuss the survey findings and more.